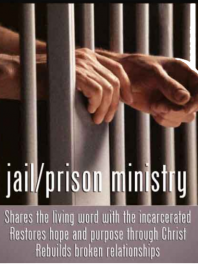 Matthew 25:34-36
34 "Then the King will say to those on His right, 'Come, you who are blessed of My Father," inherit the kingdom prepared for you from the foundation of the world.
35 For I was hungry, and you gave Me somthing to eat; I was thirsty, and you gave Me something to drink; I was a stranger, and you invited Me in;
35 naked, and you clothed Me; I was sick, and you visited Me; I was in prison, and you came to Me.'
One of the greatest messages of hope comes when volunteers just show up! Have you been called to go?
Bill White, Elder
Email: debbiesrib@gmail.com